Ausriß.
Ausriß.
Laut den Ergebnissen der Olympischen Winterspiele 2022 in Peking belegte das russische Team den neunten Platz in der Medaillen-Gesamtwertung. Die Athleten holten sechs Goldmedaillen, 12 Silber- und 14 Bronzemedaillen in zehn Disziplinen. Nach der Gesamtanzahl der Medaillen liegt das Team auf Platz zwei hinter Norwegen.
Zudem stellten die Sportler einen neuen nationalen Rekord bei den Winterspielen auf. Die bisherige Bestmarke lag bei 30 Medaillen und wurde in Sotschi im Jahr 2018 aufgestellt. Außerdem übertraf das Team alle Erwartungen: Das Russische Olympische Komitee hatte vor den Spielen 30 Medaillen zur offiziellen Zielsetzung für Peking erklärt.
Die meisten Medaillen für Russland holten die Langläufer, die Eiskunstläufer und die Biathleten. Am erfolgreichsten war der 25-jährige Alexander Bolschunow: Er eroberte dreimal Gold und je eine Silber- und Bronzemedaille und ist der erste Langläufer, der bei einem Turnier gleich fünf Medaillen gewann.
Aus dem Kreml hieß es, man freue sich über alle Siege, sie tragen zur Entwicklung des Sports und zur Förderung eines gesunden Lebensstils bei.
Norwegen belegte mit 16 Gold-, 8 Silber- und 13 Bronzemedaillen den ersten Platz in der Gesamtwertung. Deutschland belegte mit 27 Edelplaketten den zweiten Platz. RT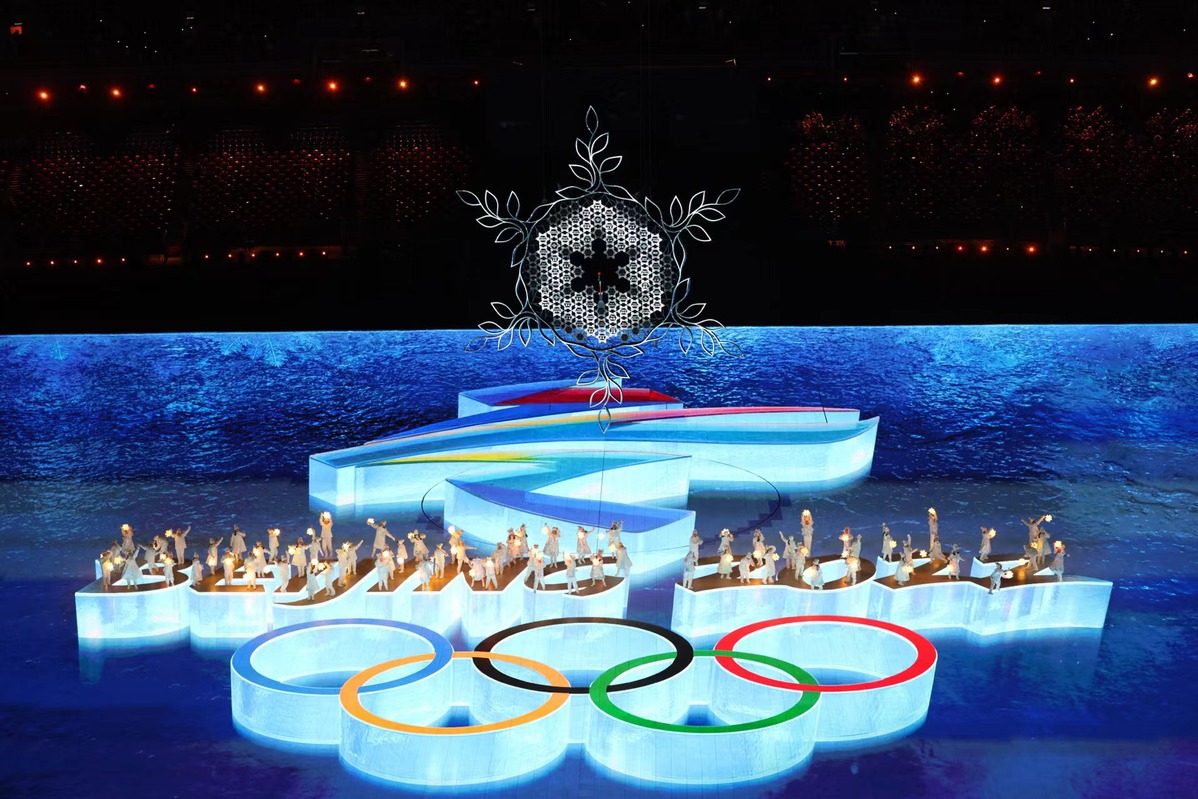 The closing ceremony of the Beijing 2022 Winter Olympics on Sunday marked the conclusion of what has been a "safe, simple and splendid" spectacle of sports.
As the first global sports event that has been held as scheduled since the outbreak of the COVID-19 pandemic, the Games have captured hearts around the world.
It was due to the full cooperation between China and the International Olympic Committee and the strong support of all stakeholders that the Games, with the broadest participation of athletes in the history of the Winter Olympics, could finally overcome all the challenges and display to the world the heartwarming togetherness that is now an integral part of the Olympic motto.
Thanks to the strict implementation of a closed-loop COVID-19 pandemic prevention and control mode, and the cooperation of all athletes as well as the dedicated efforts of the staff workers and volunteers, the Games saw no clusters of infections in the three venues and there has been no resurgence of the epidemic in the host city.
Over the 16 days of the Games, there have been hugs and tears, and numerous memorable moments, not least those in which the competitors have offered their rivals heartfelt encouragement and warm congratulations.
That the worldwide audience for the Games has been the largest in the history of the winter Olympics has only exposed how small-minded and mean-spirited the "diplomatic boycott" by some Western politicians was and how hollow the cries of alarm of the anti-China forces have sounded.
The togetherness displayed at the Games should be thought-provoking for peoples and countries in conflict. What if they could set aside their differences and appreciate one another as equal members of the one big human family?
The differences between civilizations, religions, cultures and societies should not be reasons for conflicts but sources for countries and peoples to learn from each other for the common good of humanity.
The legacy of the Games can go far beyond being part of Olympic history or encouraging a new generation to enjoy winter sports if decision-makers have taken the opportunity to see that competition and togetherness are not mutually exclusive.
The efficient organization of the Games and the state-of-the-art services and facilities have all cast the spotlight on a prosperous, dynamic and confident host country seeking to make its contributions to the building of a community with a shared future for mankind.
And a common takeaway for the athletes has been the friendliness and openness of the Chinese people. That is something that some in seats of power should come and experience for themselves.
Against the backdrop of the acute challenges the world faces today, the Games should encourage the international community to come together for a shared future. China Daily
–
"Die Volksrepublik ist grösster Gläubiger der USA. Warum sie den grössten Teil der US-Schulden trägt. Und was passiert, wenn sie damit aufhört." Handelszeitung: https://www.handelszeitung.ch/konjunktur/wenn-china-die-zahne-fletscht
–
Beim Tricksen ertappt:
Fakt ist: Zumindest bei der Österreicherin Daniela Iraschko-Stolz und der Japanerin Sara Takanashi bestätigten die Teams selbst, dass die Anzüge zu groß waren. Dass der Zorn der gesammelten Skisprungwelt Baczkowska traf, war also vielleicht zu billig. "Ich", sagte sie, "mache nur meinen Job." eurosport.de
–
…Skisprung-Kontrolleurin verteidigt sich: "Die Athleten disqualifizieren sich selbst"/DER SPIEGEL
Die polnische Materialkontrolleurin Agnieszka Baczkowska hat die außergewöhnlich vielen Disqualifikationen beim olympischen Mixed-Wettbewerb im Skispringen in Zhangjiakou verteidigt. "Darüber kann ich mich nicht freuen. Aber wenn sich die Teams oder die Athleten selbst nicht an die Regeln halten, müssen sie damit rechnen, dass sie erwischt werden, und das endet leider mit einer Disqualifikation", web.de
Den Wirbel verstand Baczkowska nicht. »Was soll ich denn machen, wenn jemand mit einem zehn Zentimeter zu großen Anzug springt? Also bitte! Das sieht man ja schon mit bloßem Auge«, sagte sie. Die Kritik returnierte Baczkowska via Frontalangriff auf die Betroffenen: »Ich hätte nicht gedacht, dass dies bei Olympia passieren kann. Ich war davon ausgegangen, dass sich die Teams vorbereiten und den Wettkampf ernst nehmen.« Und weiter: »Ich mache nur meinen Job.«
–
Mario Stecher, Sportdirektor der ebenfalls betroffenen Österreicher, bestätigte dann auch unfreiwillig, dass die Teams das Regelwerk eher als unverbindliche Empfehlung ansehen. "Im Weltcup gibt es teilweise Anzüge, die so groß sind, dass man glaubt, man ist beim Tiroler Zeltverleih". spox
–
What conclusions can be drawn from the performance of Russian athletes at the Beijing Games?
The last contingent of Russia's Winter Olympians is due to arrive back in Moscow on Monday after departing Beijing, following a fortnight of intense competition on various ski slopes, ice rinks, and racetracks.
Over the past two weeks or so, there have been successes and failures, trials and tribulations, heart-warming moments and unsavory sagas for the stars from the Russian Olympic Committee (ROC) team.
Here, we assess how the 2022 Beijing Games went from the perspective of Russian sport.